Dentures
Restore Your Confidence with Traditional or Implant-Supported Dentures
Widespread dental decay or a large number of missing teeth can impact nearly every aspect of your life. Your ability to eat and speak normally may be affected, and you may be unhappy with your appearance. Our highly skilled dentist—Kalil Abide, D.D.S.—can provide you with traditional or implant-retained dentures to rejuvenate your smile and sense of self. He will work carefully to ensure that your dentures look completely natural, fit comfortably, and work with the natural alignment of your jaw. Contact Harmony Dental Care to learn more about the dentures offered at our Jackson, MS, practice.
Treatment Options
At Harmony Dental Care, we proudly offer dentures to fit all budgets and health needs, including traditional and implant-supported.
Traditional dentures are removable and rest on a plastic base that is carefully crafted to blend with your gums. Denture adhesive will help to keep your restorations in place while in use. Should you require only a partial denture, our dental lab will match the natural color of your teeth. If you need a full denture, Dr. Abide will make sure that it complements the shape and proportions of your face. With a full denture, it is also possible to elect how white you would like it to appear.
If you opt for implant-retained dentures, Dr. Abide will oversee the entire process to make sure that you receive a stable and lifelike restoration. For your convenience, a local oral surgeon will perform your implant placement here in the office. In many cases, the oral surgeon will use the All-on-4® method. With this technique, he or she will place four dental implants, angling them slightly to minimize the impact to your jawbone. This will create a very stable base for your new restoration. Once the implants are placed, we can usually provide a temporary denture to wear while you recover.
After you have healed, Dr. Abide will attach your permanent restoration. Your implant-retained denture will be virtually indistinguishable from your natural teeth, both in function and appearance.
Which Type of Dentures Are Right for You?
The type of denture that is right for you will depend on a number of factors. We can discuss your goals during an initial consultation and make an appropriate recommendation.
Both traditional and implant-supported dentures can restore your self-confidence and your ability to eat and speak freely. However, implant-retained dentures are the most lifelike and stable option. They can also prevent jawbone degeneration, a natural consequence of tooth loss. In order to qualify for dental implants, you must have sufficient jawbone volume to support the titanium posts. If you have suffered significant jawbone degeneration, traditional dentures may be a better option.
If you currently wear traditional dentures, Dr. Abide can convert your prosthetic into an implant-supported restoration. Many patients who currently wear traditional dentures opt for this treatment option.
Start Reaping the Benefits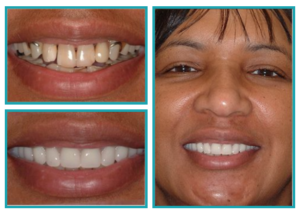 Whether you choose a traditional or implant-supported restoration, you will enjoy a number of significant benefits. If missing or damaged teeth are impairing your ability to eat, you will be able to enjoy a wider range of foods. This is especially true with implant-retained dentures, as they will not slip out of place, even when you are eating hard or chewy foods. Dentures can also reduce pressure on your jaw joints. Damaged or missing teeth can put uneven pressure along your dental arch, and this may cause temporomandibular joint (TMJ) disorder and facial pain. Finally, your restorations will improve your appearance and self-confidence. Not only will you enjoy a renewed smile, dentures will fill out your lips and cheeks, giving you a youthful, rejuvenated look.
Contact Us to Learn More
Find out which type of dentures are best suited to your needs. Contact Harmony Dental Care today to learn more about dentures and to schedule your consultation with Dr. Abide.