Smile Makeover
Refresh Your Entire Look with a Harmony Dental Care Cosmetic Smile Makeover
Dr. Kalil Abide, our cosmetic dentist, understands that having a beautiful smile has a positive effect on your life. One of his greatest joys is watching his patients leave his office, satisfied and proud to show off their rejuvenated appearance. Boost your self-confidence and improve your self-esteem with a smile makeover. Contact Harmony Dental Care in Jackson, MS, to schedule an evaluation by Dr. Abide.
Building a Beautiful Smile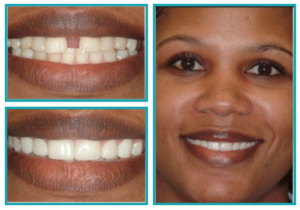 When designing your smile to improve the aesthetic appearance of your face, Dr. Abide's years of training in the field of cosmetic dentistry and unique artistic approach have given him the ability to customize a smile that compliments an individual's facial features. Dr. Abide's smile makeovers bring both harmony and balance to give a more youthful and vibrant look. At times, the face can be enhanced by giving more support to the lower third of the face, slightly lifting the upper lip and decreasing smile lines.
One of Dr. Abide's greatest joys is watching his patients leave his office, satisfied and proud to show off their rejuvenated appearance.
Who is a Good Candidate?
A smile makeover can dramatically improve your appearance if you suffer from:
Misaligned or crooked teeth
Broken or chipped teeth
Gaps between teeth or missing teeth
Short, worn, or uneven teeth
Discolored or stained teeth
Designing Your Smile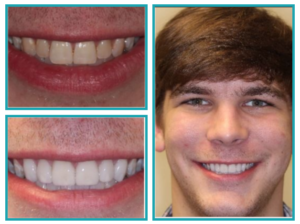 Dr. Abide will see you for a smile design consult to evaluate your specific goals and needs. This appointment allows Dr. Abide to become familiar with your mouth, as well as answer your questions and concerns. Once he has evaluated your dental health and understands your goals, Dr. Abide will design a custom treatment plan taking several factors into consideration, including your facial shape and features, to create a smile that is aesthetically pleasing and complements your overall appearance.
To help demonstrate the impact a smile makeover can have on your appearance, Dr. Abide also has available before and after pictures of other patients who have undergone similar treatment. After your discussion, the recommended procedures, appropriate molds, and images will be made to allow him to customize your smile makeover outside your mouth prior to treatment. Dr. Abide creates a customized wax-up of your mouth which will be used as a guide for fabricating temporaries.
At your smile makeover appointment, Dr. Abide will prepare your teeth and fabricate the temporaries. These temporaries will act as a trial run for the case, allowing him to check for comfort, fit, and appearance. This step is often ignored by many dentists, but Dr. Abide feels this is the most important step in customizing a smile. It allows Dr. Abide to carefully choose the correct tooth shade and shape for your smile and face while also allowing him to be sure that the teeth function properly, especially while speaking. Once the temporaries are approved, impressions and images will be taken so that the case can be fabricated from these models. Once the final restorations are placed, Dr. Abide will examine the restoration, as well as your bite alignment and overall health.
All the staff are warm and welcoming and I know that I'm receiving exceptional care. I will never go anywhere else!
Learn More About Enhancing Your Smile
Bringing harmony and beauty to your smile is important to Dr. Abide. To learn more about how you can achieve an amazing smile through our smile makeover, schedule an appointment with Harmony Dental Care.