Restorative Dentistry
Restorative Dentistry for a Healthy, Happy Mouth
Explore Topics on this Page
Dental Fillings
Glaring, awkward metal fillings are a thing of the past. Our Jackson dentist—Kalil Abide, D.D.S.—is proud to offer tooth-colored fillings called composites. These fillings are bonded directly to the tooth to repair conservative to moderate areas of decay. Because tooth-colored fillings blend in seamlessly with surrounding teeth, they can also be used to replace old silver fillings to create a more natural appearance.
Inlays And Onlays
In some cases where a significant amount of tooth structure has been lost, an inlay or onlay may be the restoration of choice. Inlays and onlays are indirect fillings made from porcelain that are bonded to the tooth to repair damage and protect it from further decay. Inlays are customized to repair damage that lies within the cusp of a tooth, while onlays cover the entire top surface of a tooth.
Dental Crowns
With dental crowns, Dr. Abide is able to restore the health and beauty of his patients' smiles. Crowns are designed to fit over the entire surface area of a tooth and are used to support weak teeth, conceal imperfections, and relieve the pain and sensitivity caused by decay or other damage. Dr. Abide now offers metal-free crowns because he feels they are superior to the traditional porcelain-fused-to-metal crowns. Metal-free crowns reduce the occurrence of gum irritation and eliminate the dark line along the gumline which is common with porcelain-fused-to-metal crowns. Dr. Abide utilizes state-of-the-art crown materials, including zirconia, IPS e.max®, and porcelain, which are highly durable; in fact, with proper care, they can last for ten years or more.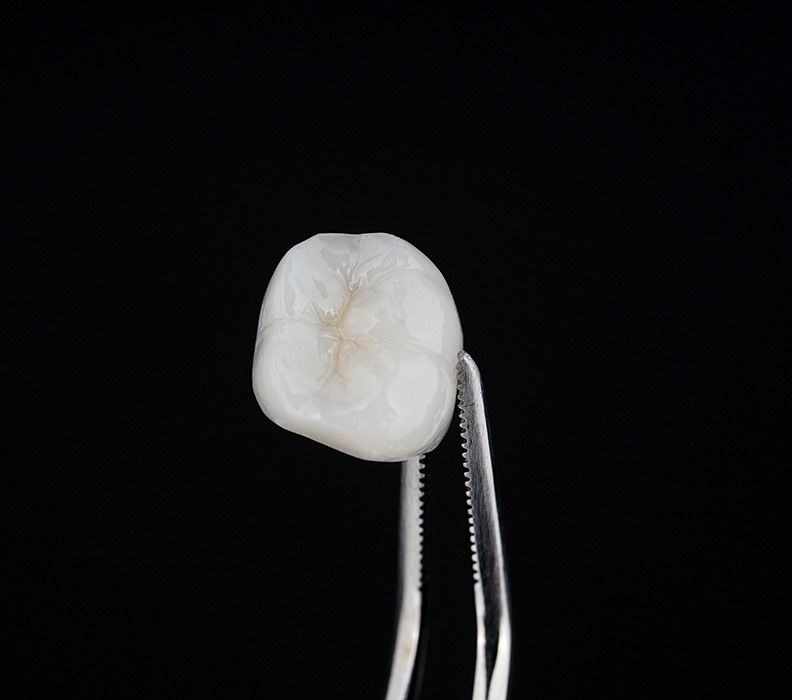 Dental Bridges
A dental bridge is just that—a bridge spanning gaps between teeth. This restorative dentistry option not only improves the appearance and function of your mouth, but it also prevents your natural teeth from shifting out of their optimal position. Bridges can restore function and balance to your mouth, improving your ability to eat and speak, while returning your smile to its naturally beautiful state.
Full Mouth Reconstruction
Extensive dental decay and damage may require a single comprehensive treatment to restore your oral health. Dr. Abide can provide a full-mouth reconstruction that is tailored to meet each of your unique dental requirements. By combining restorative procedures, a full-mouth reconstruction can rejuvenate your smile and dental functionality, and save you time and money in the long run.