Restorative Dentistry
Restorative Dentistry for a Healthy, Happy Mouth
Dental Fillings
Glaring, awkward metal fillings are a thing of the past. Our Jackson dentist—Kalil Abide, D.D.S.—is proud to offer tooth-colored fillings called composites. These fillings are bonded directly to the tooth to repair conservative to moderate areas of decay. Because tooth-colored fillings blend in seamlessly with surrounding teeth, they can also be used to replace old silver fillings to create a more natural appearance.
Inlays and Onlays
In some cases where a significant amount of tooth structure has been lost, an inlay or onlay may be the restoration of choice. Inlays and onlays are indirect fillings made from porcelain that are bonded to the tooth to repair damage and protect it from further decay. Inlays are customized to repair damage that lies within the cusp of a tooth, while onlays cover the entire top surface of a tooth.
Dental Crowns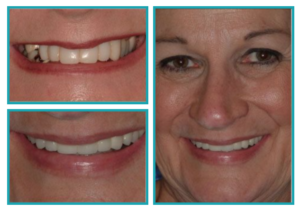 With dental crowns, Dr. Abide is able to restore the health and beauty of his patients' smiles. Crowns are designed to fit over the entire surface area of a tooth and are used to support weak teeth, conceal imperfections, and relieve the pain and sensitivity caused by decay or other damage. Dr. Abide now offers metal-free crowns because he feels they are superior to the traditional porcelain-fused-to-metal crowns. Metal-free crowns reduce the occurrence of gum irritation and eliminate the dark line along the gumline which is common with porcelain-fused-to-metal crowns. Dr. Abide utilizes state-of-the-art crown materials, including zirconia, IPS e.max®, and porcelain, which are highly durable; in fact, with proper care, they can last for ten years or more.
Learn More About Dental Crowns
Dental Bridges
A dental bridge is just that—a bridge spanning gaps between teeth. This restorative dentistry option not only improves the appearance and function of your mouth, but it also prevents your natural teeth from shifting out of their optimal position. Bridges can restore function and balance to your mouth, improving your ability to eat and speak, while returning your smile to its naturally beautiful state.
Dentures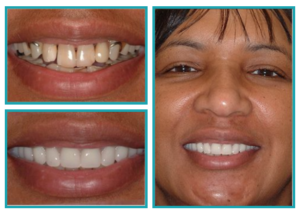 Dr. Abide's expertise and skill as a cosmetic dentist allow him to provide patients with lifelike dentures that restore function and beauty to smiles affected by missing teeth. Traditionally made from plastic or porcelain, dentures fit comfortably and snugly in the mouth and can be removed at night and for cleaning. They are a good option for patients who have lost teeth due to age, decay, or extraction. Not only is Dr. Abide skilled in the crafting and application of custom dentures, he is also able to repair and restore dentures for his patients.
Dentures Cost
Since dentures are fully customized according to each patient's needs, the overall cost of the solution will vary from patient to patient. Whether an individual chooses a traditional or implant-supported denture is the most significant factor that will affect the total cost. Other characteristics that contribute to the amount you can expect to pay include the materials used to craft your restoration and whether a partial or full denture is required. A more personalized look at your denture cost will be discussed with you during your consultation.
Learn More About Denture Costs
Dental Implants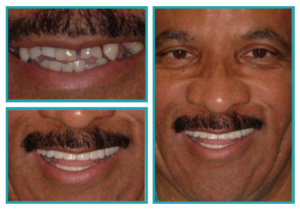 Dental implants have become the tooth replacement option of choice for many because they look, feel, and function just like natural teeth. Once a dental implant is placed in a patient's jawbone, it can last a lifetime. The healing process after an implant is placed takes anywhere from four to eight months, after which the implant is then ready to be restored with a crown, bridge, or denture.
Learn More About Dental Implants
Dental Implants Cost
As a permanent replacement for missing teeth, dental implants are considered a long-term investment in one's smile. Since the solution is more in-depth than other replacement options, there are a number of factors that will affect the total cost. This includes whether you are receiving a single implant, multiple, or an implant-supported denture, as well as the type of anesthesia you receive for your surgery. Dr. Abide will provide a personalized quote for each patient's dental implant cost once their customized treatment plan has been established.
Learn More About Dental Implants Cost
Full Mouth Reconstruction
Extensive dental decay and damage may require a single comprehensive treatment to restore your oral health. Dr. Abide can provide a full-mouth reconstruction that is tailored to meet each of your unique dental requirements. By combining restorative procedures, a full-mouth reconstruction can rejuvenate your smile and dental functionality, and save you time and money in the long run.
Bone Grafting
Bone grafting is an advanced procedure designed to help restore the density, shape, and size of the jawbone. It is often performed prior to dental implant treatments in order to give patients who have experienced bone degeneration the highest chance of implant success. Dr. Abide has completed continuing education courses on bone grafting through the Pikos Institute, and he is committed to providing patients with the most comfortable, efficient, and effective dental solutions available.