Dental Implants
Dental Implants Can Restore Your Bite and Smile for Life
At Harmony Dental Care, Kalil Abide, D.D.S. works with you at every step of the dental implant process. From planning and placing your dental implant, to designing and securing your final restoration, Dr. Abide combines his expertise in implant surgery and experience performing smile makeovers to provide you with results that look and feel like a natural tooth. In addition to helping you achieve a high quality, permanent tooth replacement, Dr. Abide will be your partner in helping care for the implant and restoration, ensuring you maintain your beautiful smile for years to come.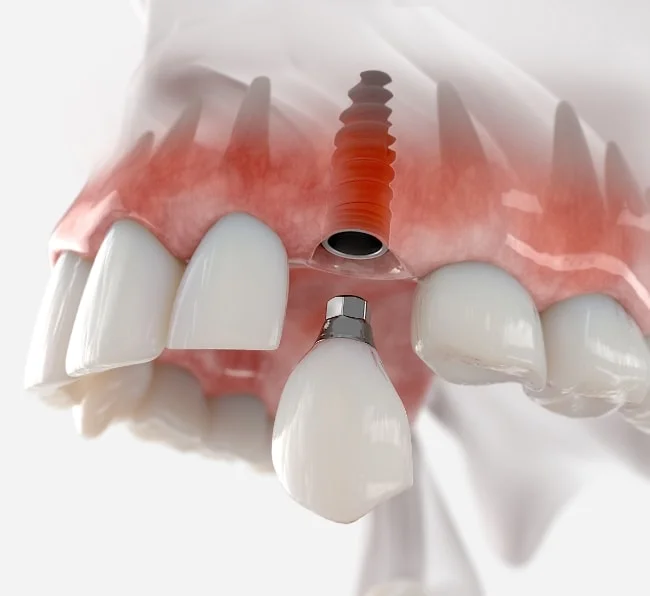 What Are Dental Implants?
If you are missing teeth and are looking for the best lifelike restorative option, dental implants might be the ideal solution for you. These titanium posts are permanently placed in the jawbone, and allow our cosmetic dentist to deliver a beautifully crafted dental restoration that appears and functions just like your natural teeth. With today's modern technology, whether it's replacing one tooth or utilizing the All-on-4® method, dental implants have become the standard for tooth replacement. With a deep commitment to providing the absolute best dental care, Dr. Abide can oversee your entire dental implant procedure to ensure incredible, long-lasting results. To find out if you are a candidate for dental implants, contact Harmony Dental Care of Jackson, MS today.
Am I a Candidate for Dental Implants?
If you are missing one, several, or even all of your teeth, implant-supported restorations are a great option to restore the quality of your oral health. To qualify for implants, you must have an adequate amount of healthy bone in your jaw to support the implant post. Because bone degeneration is a common side effect of tooth loss, Dr. Abide will carefully evaluate your overall oral health to determine if there is sufficient bone for implant placement. If not, there are many bone grafting techniques available that can be performed to replace deficient bone. Ultimately, if you suffer from tooth loss or have severely damaged or decayed teeth, you are a candidate for dental implants.
What are the benefits of dental implants?
Most experts believe that dental implants have become the optimal method of tooth replacement. Their benefits include:
The days of dentures slipping out of place are gone. Implant-supported restorations are permanent fixtures of the oral cavity, giving you back that self-esteem you might have lost over the years.
Because of their durability and Dr. Abide's top-quality care, implants are a wise investment in your dental health. After the integration of dental implants, they generally remain for a lifetime, saving you significant expense in the future.
Your implant-supported restorations will be custom-made to match your natural teeth and complement your facial structure. They are virtually identical to your natural teeth in appearance and function while restoring your bite.
Implants are the only type of restorative dentistry that is beneficial in restoring your jawbone to good health. Due to their ability to resemble our natural root form, implants maintain and prevent further degenerative disease, reducing your risk of tooth loss while maintaining the shape of your jawbone and face.
The benefits of dental implants are many. If you suffer from poor dental health, we encourage you to consider all of your options.
What types of dental implants are available?
Dental implants can be utilized for different types of restorations, depending on your specific tooth replacement needs. During your consultation, Dr. Abide will perform a thorough oral evaluation to determine which implant solution can provide you with the best possible results. Candidates for dental implants can typically benefit from either a single-tooth implant, implant-supported bridge, or implant-supported denture.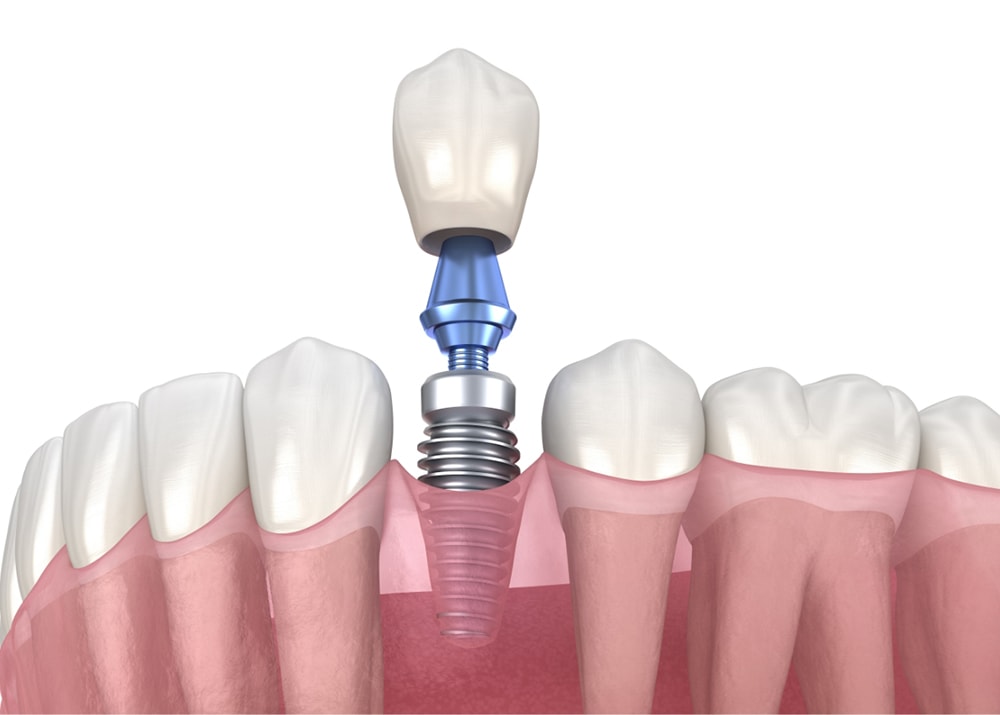 Single-Tooth Implants
If you are only missing one tooth, or have multiple missing teeth in different areas of your mouth, Dr. Abide may recommend single-tooth implants. This implant type involves the use of one dental implant post in the place of each missing tooth root. A dental crown is then attached to each post to restore the look and function of the missing tooth.
Implant Bridges
When multiple teeth are missing next to each other, implant bridges may be the ideal replacement option. Similar to traditional bridges, implant-supported bridges utilize one restoration to replace multiple teeth, but they differ in that they are anchored to the jawbone with dental implants, providing increased stability and preventing bone recession.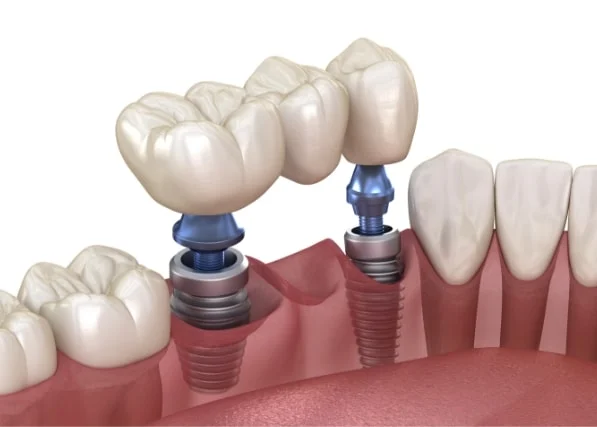 Implant Dentures
Patients missing entire arches of teeth can obtain the most natural-looking and -functioning replacement by opting for implant dentures. This advanced teeth replacement involves a full-arch restoration that attaches to multiple dental implants placed along the arch. For some patients, Dr. Abide may utilize the All-on-4® treatment concept, which only requires four implants.
Will I need a bone grafting?
Some patients will need bone grafting prior to their dental implant procedure, since the implant post requires adequate bone support for long-term success. In many cases, this preliminary step is not needed, as the patient may already have good jawbone density in the area. For those who have had a missing tooth for an extended period of time, though, bone recession is a likely side effect that may affect their candidacy. This thinning of the jawbone makes it difficult to properly implant the titanium post to ensure a solid foundation for the restoration. To correct this issue, Dr. Abide may recommend bone grafting to build up the area to accommodate the implant.
In addition to or in place of bone grafting, some patients may be good candidates for the All-on-4® protocol of placing dental implants. This technique involves placing at least four implants in an arch, two of which are angled to maximize contact with the surrounding bone tissue. A full-arch prosthesis is then anchored to these strategically placed implants. Dr. Abide will go over your options during your dental implant consultation, and evaluate whether you will need bone grafting to become eligible for implant surgery.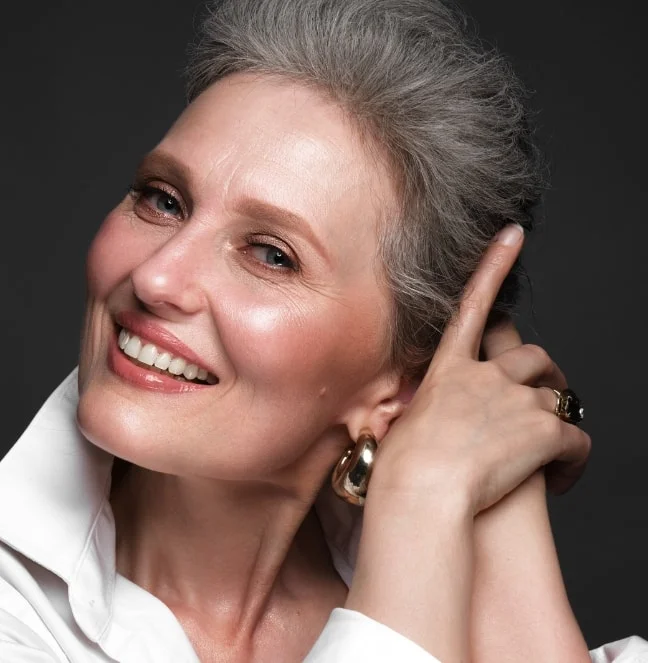 WHAT CAN I EXPECT IN THE DENTAL IMPLANT PROCEDURE?
Before you can receive implants, Dr. Abide will need to conduct a complete exam to determine your candidacy for this treatment. He will then customize a treatment plan taking into consideration your dental health while maintaining your dental goals. A treatment conference with Dr. Abide allows him to organize the entire implant procedure to make sure that you receive the highest level of care with minimal discomfort while not compromising treatment. To ensure the utmost precision, a custom surgical guide will be made to map the exact locations for placing the implant posts.
The number of implants you receive will depend on the type of restoration (dental crown, bridge, partial or full denture) and the amount of bone you have available. If you are lacking bone for implant placement, Dr. Abide might suggest a bone graft prior to implant placement. Once, the implants are surgically placed, it typically takes four to six months for your gums and bone to heal. As you recover, your bone and soft tissues will close around the implants becoming a permanent part of your jawbone, taking the place of your missing tooth roots. Dr. Abide will monitor your progress, and when your implants have fully integrated, he will move forward with the restorative plan whether it's a crown, bridge, or implant-supported denture.
Other than the traditional implant options, Dr. Abide offers other procedures such as the All-on-4® method. During this procedure, Dr. Abide will use four to six smaller implants, placing them at a slight angle to minimize the impact on surrounding tissue. This process allows placement of an implant denture the same day. In some cases, he can even provide single tooth implants utilizing a temporary restoration until healing has taken place for your permanent restorations.
How long do dental implants last?
When dental implants are placed by a qualified and experienced professional, they gradually fuse to the jawbone and become a permanent part of your mouth. As a result, they are considered a lifelong investment that should never need to be replaced if maintained with proper dental care, including good oral hygiene, throughout your life. The restorations that are placed on top of implants—whether this is a crown, bridge, or denture—can undergo gradual wear and tear over time, and as a result, you may need to replace your restoration after about 10 years. Dr. Abide will typically use a screw-retained implant crown or bridge in case a new restoration is needed in the future. To ensure your dental implant restorations last for as long as possible, Dr. Abide will help you understand how to care for them and what steps you can take to prolong their lifespan.
How do I care for my dental implants?
Since dental implants are designed to act like your natural teeth, caring for them will be similar to how you maintain your other teeth. Routine oral hygiene habits, like brushing twice and flossing once daily, as well as attending regular dental checkups and cleanings can help you preserve your dental implants for decades, if not a lifetime.
How much do dental implants cost?
The average cost of dental implants will vary depending on your unique needs and the experience of your dentist. During your initial evaluation, Dr. Abide will work with you to determine how many missing or damaged teeth need to be replaced, your treatment goals, the materials required for your restoration, and the actual surgical requirements needed for your treatment. These details will help our team determine the cost of your dental implants. Based on this first evaluation, you'll receive a personalized quote.
The total cost of your dental implant procedure will be influenced by different factors, such as:
Pre- and post-operative care and checkups
X-rays and exams/office visits
Tooth and/or root extraction
Placement of the titanium root, which is the actual dental implant
Placement of the crown or other restoration
Implant maintenance
Possible additional procedures may be required: bone grafting, sinus lift, implant site development for the future, etc.
While dental implants have a higher up-front cost compared to alternatives, their longevity is much more than any other procedure, making it a more affordable choice long-term. Another factor to consider is that your bone health is crucial for lasting facial, tooth, and bone structure maintenance. Dental implants are an investment for your future oral health; your smile, face shape, bone density and strength will be saved by this procedure for your lifetime. This makes dental implants a wise decision for your health, confidence, and quality of life. When analyzing your decision on dental implants, consider all the important factors and find the right dentist for you!
For more information, please visit our page about dental implant cost.
Does insurance cover dental implants?
Insurance coverage for dental implants will vary based on your provider and specific plan. Many dental insurance companies will cover the most affordable tooth replacement option (such as a bridge or denture), but not the dental implant procedure, since it is typically deemed elective. The best way to learn if you have coverage for the cost of dental implants is to contact your insurance provider. Our friendly and knowledgeable staff is happy to assist you in navigating your dental insurance benefits to make the payment process as straightforward and stress-free as possible.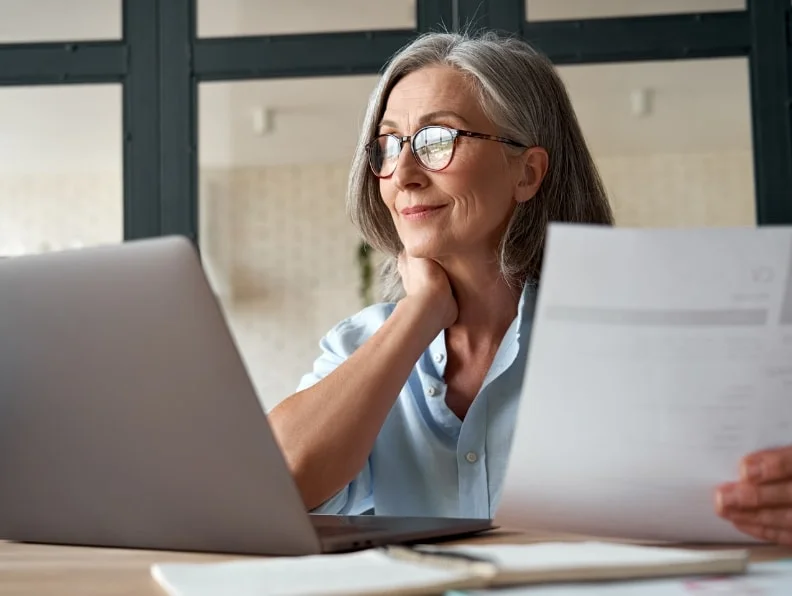 What are the alternatives to dental implants?
Whether you are not a good candidate for single-tooth dental implants or would simply like to learn about your other tooth replacement options, Dr. Abide will help you understand all of your alternatives. Although dental implants can provide the most lifelike replacement for a missing tooth, other solutions are available for filling gaps. For instance, implant-supported bridges and implant dentures provide similar benefits to single-tooth implants, but they require fewer implant posts and can replace more teeth at once. This allows many patients who are not candidates for several individual dental implants to still be able to receive anchored restorations. As an alternative to all dental implant solutions, Dr. Abide can educate you on the benefits and limitations of traditional options like bridges or dentures.
For more information on pricing for dental implant alternatives, please visit our page on how much dentures cost.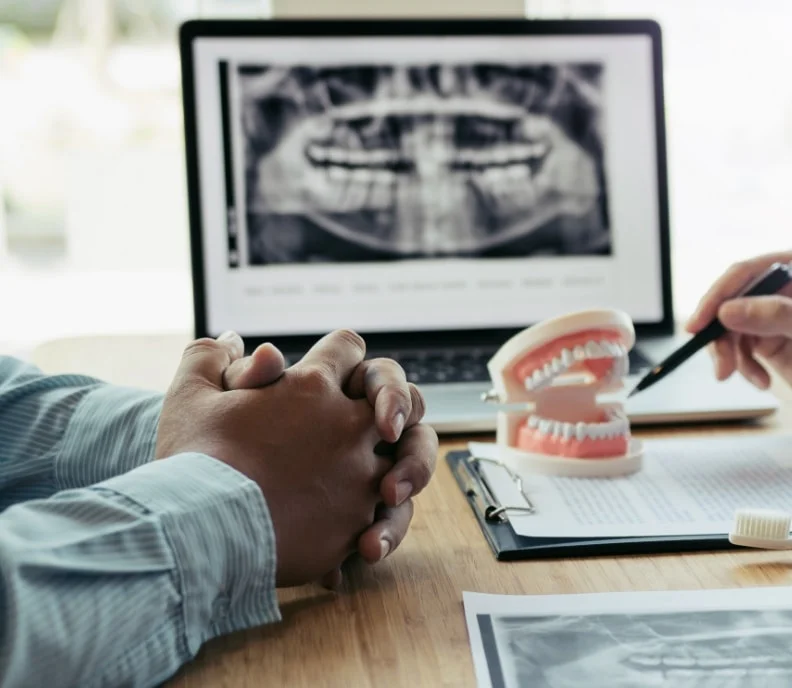 How do I choose the best implant dentist?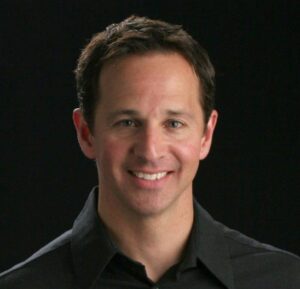 When searching for a dentist to perform your dental implant procedure, you should look at their background to ensure they are qualified to perform your surgery. It can also help to view before-and-after photos of their patients to get an idea of the types of results you can expect.
While many dentists can perform cosmetic solutions like dental implants, you will most likely want to select a cosmetic dentist who has experience performing the procedure. Cosmetic dentists generally offer a variety of services, including dental implants, and use the latest technology to give you a great smile that you will want to show off.
While general dentists are skilled at solving your every health-related dental need, cosmetic dentists focus on treatments and procedures that improve the overall appearance of your smile. Both types of dentists can provide preventive and health-related care; however, cosmetic dentists are trained in producing the most aesthetic outcome, utilizing products that lead to better-looking results.
Schedule a Consultation Today
Contact Harmony Dental Care to have Dr. Abide determine which treatment is best for you. During your consultation, we will also answer any questions you may have about dental implants and the many factors that influence the total cost of this restorative option.