Dental Implants
Dental Implants Can Restore Your Bite and Smile for Life
If you are missing teeth and are looking for the best lifelike restorative option, dental implants might be the ideal solution for you. These titanium posts are permanently placed in the jawbone, and allow our Jackson dentist, Dr. Kalil Abide, to deliver a beautifully crafted dental restoration that appears and functions just like your natural teeth. With today's modern technology, whether it's replacing one tooth or utilizing the All-on- 4® method or Same Day Teeth™, dental implants have become the standard for tooth replacement. With a deep commitment to providing the absolute best dental care, Dr. Abide can oversee your entire dental implant procedure to ensure incredible, long-lasting results. To find out if you are a candidate for dental implants, contact Harmony Dental Care of Jackson, MS today.
Is This Treatment Right for You?
If you are missing one, several, or even all of your teeth, implant-supported restorations are a great option to restore the quality of your oral health. To qualify for implants, you must have an adequate amount of healthy bone in your jaw to support the implant post. Because bone degeneration is a common side effect of tooth loss, Dr. Abide will carefully evaluate your overall oral health to determine if there is sufficient bone for implant placement. If not, there are many bone grafting techniques available that can be performed to replace deficient bone. Ultimately, if you suffer from tooth loss or have severely damaged or decayed teeth, you are a candidate for dental implants.
Benefits of Dental Implants
Most experts believe that dental implants have become the optimal method of tooth replacement. Their benefits include:
The days of dentures slipping out of place are gone. Implant supported restorations are permanent fixtures of the oral cavity giving you back that self-esteem you might have lost over the years.
Because of their durability and Dr. Abide's top-quality care, implants are a wise investment in your dental health. After integration of dental implants, they generally remain for a lifetime saving you significant expense in the future.
Your implant-supported restorations will be custom-made to match your natural teeth and complement your facial structure. They are virtually identical to your natural teeth in appearance and function while restoring your bite to health.
Implants are the only type of restorative dentistry that is beneficial in restoring your jaw bone to health. Due to their ability to resemble our natural root form, implants maintain and prevent further degenerative disease, reducing your risk of tooth loss while maintaining the shape of your jawbone and face.
The benefits of dental implants are many. If you suffer from poor dental health, we encourage you to consider all of your options.
Dental Implant Placement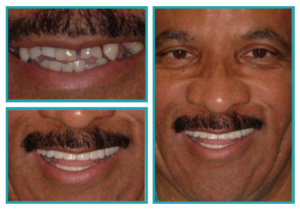 Before you can receive implants, Dr. Abide will need to conduct a complete exam to determine your candidacy for this treatment. He will then customize a treatment plan taking into consideration your dental health while maintaining your dental goals. A treatment conference with Dr. Abide allows him to organize the entire implant procedure to make sure that you receive the highest level of care with minimal discomfort while not compromising treatment.
With today's modern technology, whether it's replacing one tooth or utilizing the All-on- 4® method or Same Day Teeth™, dental implants have become the standard for tooth replacement.
The number of implants you receive will depend on the type of restoration (dental crown, bridge, partial or full denture) and the amount of bone you have available. If you are lacking bone for implant placement, Dr. Abide might suggest a bone graft prior to implant placement. Once, the implants are surgically placed, it typically takes four to six months for your gums and bone to heal. As you recover, your bone and soft tissues will close around the implants becoming a permanent part of your jawbone, taking the place of your missing tooth roots. Dr. Abide will monitor your progress, and when your implants have fully integrated, he will move forward with the restorative plan whether it's a crown, bridge, or implant supported denture.
Other than the traditional implant options, Dr. Abide offers other procedures such as the implant-supported denture, All-on-4® method. During this procedure, Dr. Abide will use four to six smaller implants, placing them at a slight angle to minimize the impact on surrounding tissue. This process allows placement of an implant denture the same day. In some cases, he can even provide single tooth implants utilizing a temporary restoration until healing has taken place for your permanent restorations.
The staff at Harmony Dental is friendly and very knowledgeable!! I would definitely recommend Harmony!
Schedule a Consultation Today
Contact Harmony Dental Care to have Dr. Abide determine which treatment is best for you. During your complimentary consultation, we will also answer any questions you may have about dental implants and the many factors that influence the total cost of this restorative option.