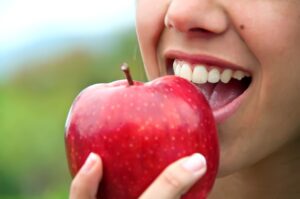 Tooth loss is one of the most serious oral health problems. The teeth play many important roles. They uphold and support adjacent teeth, they provide structure to the mouth and face, and they allow us to break down food so we can eat comfortably. When tooth loss occurs, oral functions, including eating, are greatly compromised.
Dental implants replace missing teeth with strong and durable restorations that are the closest replica to the natural teeth. Dental implants fuse with the jawbone and act as tooth roots, providing stimulation to the bone and support to the teeth. Among the many benefits of dental implants, improved ability to eat is one enjoyed most by our Jackson, MS patients. Experienced dentist Kalil Abide is happy to oversee dental implant treatment for patients so they can once again enjoy the foods they love.
Dental Implant Treatment
Dental implants are the strongest and most durable restoration for missing teeth. They are the only dental restoration that addresses the loss of the entire tooth. While most treatments replace just the crown of a missing tooth, or that portion that sits above the gum line, dental implants replace the roots of the teeth as well.
Implants are small titanium screws that are surgically placed into the jawbone. In the weeks following treatment, dental implants fuse with the tissues of the jaw bone, creating a strong anchor for the restorations that will later be attached to the implants. The superior strength and durability of dental implants enable dental restorations, such as crowns, bridges, or permanent dentures, to function just like the natural teeth. With implants in place, patients will benefit from an improvement in oral functions, including an improved ability to chew and eat.
Eating after Dental Implant Treatment
Immediately after dental implants are placed, the surgical site may be sore and tender. It is important that the implants have time to heal, so we recommend that patients stick to a liquid diet for a short period of time, followed by a diet of soft, pureed foods. This is a temporary restriction. Once the initial healing period is over, which typically only lasts a couple of days, patients should be able to eat all the foods they enjoyed prior to treatment.
Once all phases of dental implant treatment are complete and the restorations are in place, patients will be able to eat all types of foods. Dental implants will improve patient comfort so the foods that were too difficult to eat after tooth loss occurred, including nuts, apples, chips, and popcorn, can be consumed again. Most tooth loss treatments require special care and diet restrictions to prolong their lifespan. Dental implants are the only dental restoration that allows patients to enjoy eating the way they did when they had their natural teeth.
Contact Us
Tooth loss can compromise the strength, health, and beauty of the smile. Dental implants replace missing teeth with durable restorations that function just like the natural teeth. If you have suffered tooth loss and would like to know if dental implants are right for you, contact us at your earliest convenience to set up a consultation with Dr. Kalil Abide.