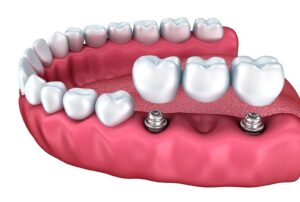 Having a single tooth extracted as a result of decay or severe damage is not uncommon. However, occasionally, more than one tooth must be removed. When three side-by-side teeth are removed from one section of the mouth, it can significantly impact a person's smile. Missing teeth not only affect the smile's appearance, but it can also hinder its functionality. As soon as tooth loss occurs, it's important to find a good replacement solution to prevent remaining teeth from shifting out of place and the jawbone from degenerating.
Dr. Kalil Abide recommends dental implants as an excellent support for a custom-made dental bridge for patients seeking a multiple teeth replacement solution at our Jackson, MS practice. Together, dental implants and bridges have been dramatically transforming people's smiles for many years.
How Dental Implants and Bridges Work
Dental implants are small titanium screws that are placed within the jawbone. Once the implants are inserted, they integrate with surrounding tissues over a four- to six-month healing period known as osseointegration. They are not only designed to support custom-made restorations, such as a dental bridge, but they act as natural tooth roots, helping the nerves within the jawbone remain stimulated. This helps preserve the long-term health of the jawbone and prevent bone loss.
An implant-supported bridge is typically made from medical grade porcelain, color-matched to blend in naturally with surrounding teeth. Your restoration will fit securely atop the dental implants and help bridge the gap.
What Are the Benefits of an Implant-supported Bridge?
An implant-supported bridge provides many great benefits:
Better oral health: While a traditional bridge uses remaining teeth on either side of the gap to support it, an implant-supported bridge does not jeopardize nearby teeth or gums. In fact, it promotes bone regeneration so that your jawbone and teeth remain structurally intact and in place.
Durable and stable results: Because dental implants fuse with the jawbone, an implant-supported bridge is designed to last for many years. Although a dental bridge is not invincible, it can withstand similar pressure as your natural teeth so you can enjoy restored dental function and your favorite foods.
Beautiful aesthetics: The dental lab that designs your dental bridge will use impressions taken of your mouth to create a restoration that blends flawlessly with the natural aesthetics of your smile. Most people will be unaware that you even have an implant-supported bridge unless you tell them.
Restored self-confidence: A noticeable gap in your teeth can keep you from smiling confidently. Once your dental bridge is in place, you will have an increased desire to smile, notice a boost in self-confidence, and experience a better quality of life.
Contact Us
To learn more about dental implants and bridges and how they can restore your smile and self-confidence, please contact our office today. During your consultation with Dr. Abide, he will explain the procedure in detail and take the time to address any of your concerns. Your treatment plan will be tailor-made to fit your desires so that you achieve optimal results. Fill out our online form or simply call (601) 713-1923 to schedule your consultation.