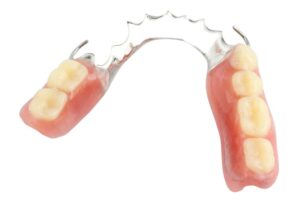 If you are missing all or many of your teeth, you probably know that dentures are a good treatment option. However, like many patients, you may worry that dentures will not fit properly or look right. Fortunately, Dr. Kalil Abide offers a full range of lifelike dentures made from advanced materials. He will examine your dental health and discuss your goals, and then recommend the most appropriate type of denture for your needs. Of course, the number of teeth you are missing will determine whether full or partial dentures are right for you. Then you will determine whether you are more suited to removable or implant-supported restorations. No matter what type you choose, you will enjoy a beautifully crafted denture, improved oral function, and greater confidence in your smile. To learn more about full vs. partial dentures, contact our Jackson, MS practice today.
What to Expect from Partial Dentures
If you are missing several adjacent teeth, but you still have a healthy dental arch, partial dentures are probably the best option. These restorations are made of several attached crowns with a gum-colored plastic base. Small metal clasps will attach to your adjoining healthy teeth, and you can use denture adhesive to give your restoration greater stability. Dr. Abide will carefully match the color of your restoration to the shade of your remaining natural teeth. He will also make sure that your restoration maintains the normal force and alignment of your bite.
What to Expect from Full Dentures
As the name implies, full dentures will replace all of your teeth. Like our partials, our full restorations will have a gum-colored plastic base, carefully selected to match the exact shade of your soft tissues. Dr. Abide will also choose a shade of dental porcelain that will look natural and will match your overall appearance. Dr. Abide understands that dentures are not simply about your teeth. Rather, they work within your overall facial structure. Therefore, he will consider your facial proportions, lip movements, and other factors when designing your restoration.
Can Implants Support Either Type of Dentures?
Today's traditional dentures are more stable than ever before. However, implant-supported dentures provide even greater stability. Implants are small metal posts, which will replace your dental roots. They can then support your restoration – even a full upper and lower denture. Your dentist will place two or more posts for a partial denture. We can also use the All-on-4® method to provide an implant-supported full denture.
With implants, your denture will never slip out of place. Because it will not involve metal clasps or a plastic base, it will also look more realistic than other types of restorations. Finally, dental implants can prevent jawbone recession. This means that you will have a much lower risk for future tooth loss. It also means that your denture will continue to fit securely since you will not have to deal with changing facial proportions.
If you opt for an implant-supported denture, Dr. Abide will coordinate your overall procedure. He will refer you to an experienced surgeon for implant placement, and after you have healed, he will attach your lifelike restoration.
Find out the Right Type of Dentures for You
Learn more about the different types of dentures and which one may be most suited to your needs. Contact our office to schedule an appointment with Dr. Abide.