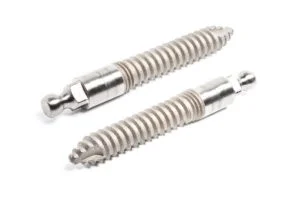 Unfortunately, tooth loss is a very real (and fairly common) oral health problem. But, with all of the advances in restorative dentistry, there is no reason for missing teeth to impact the health and function of a patient's smile. There are many restorative treatment options for missing teeth, and dental implants stand out as the most secure and durable treatment option. Dental implants offer a secure foundation for dental crowns, dental bridges, and dentures, allowing patients to enjoy a smile that feels, looks, and functions just like the natural teeth. While the benefits of dental implants are numerous, the treatment process does involve a serious oral surgery. Here, Dr. Kalil Abide discusses potential dental implant side effects so his Jackson, MS patients know what to expect prior to proceeding with treatment.
Dental Implant Side Effects
Under the care of a skilled and experienced oral surgeon, dental implant surgery should be a safe and effective procedure with minimal risk of complications. However, complications (which are rare and unanticipated consequences) are different than side effects. Side effects are a natural response to the alterations that take place during the dental implant procedure, and are a normal result of dental implant treatment. Fortunately, these side effects are only temporary and are typically not very severe. Still, it is a good idea for patients to be well aware of these side effects so that they are prepared for their dental implant recovery. Below are some of the most common side effects of dental implant surgery:
Discomfort: As with any oral surgery, the patient is likely to experience some discomfort in the days after treatment. Pain should not be too severe, but Dr. Abide can prescribe a pain medication to help manage any discomfort.
Bleeding: While bleeding is not usually a problem after dental implant treatment, it is normal for patients to notice some bleeding at the implant site. This bleeding is usually minimal and should not last longer than a day or two.
Swelling: It is common for patients to notice some swelling around the gum line surrounding the treatment site. In some cases, the cheeks and side of the face may also appear swollen after dental implant surgery. This swelling will dissipate over time, but patients can use ice packs to help the healing process.
Bruising: Bruising is another potential side effect of dental implants treatment. The face may show some signs of bruising. As with swelling, this bruising will gradually decrease in the days following treatment.
The above-mentioned side effects are normal and should not be cause for concern. However, in rare cases (usually when post-operative instructions are not followed) an infection may develop following dental implant treatment. An infection can inhibit the dental implants from fusing with the jawbone and can lead to dental implant failure. To avoid this complication, patients should carefully follow all care instructions, take all prescribed antibiotics, and report any unusual side effects to Dr. Abide as soon as possible.
Contact Us
Dental implants offer a secure and durable foundation for a full range of dental restorations. They are an ideal solution for patients who have lost a single tooth, multiple teeth, or a complete set of teeth. To learn more about these beneficial restorations and the treatment process, contact us at your earliest convenience.