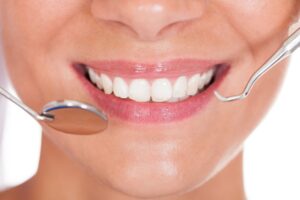 Over the years, a person's smile can lose its natural radiance for any number of reasons. The teeth can simply become worn and dull due to daily wear and tear, or they can become discolored through exposure to staining agents such as tobacco and certain foods, beverages, and medications. Fortunately, modern cosmetic dentistry has offered a solution that has helped millions of patients restore natural brilliance to their teeth in the form of professional teeth whitening.
At Harmony Dental Care, we strive to offer the most advanced and effective cosmetic dentistry treatments available at competitive prices. Of course, we cannot and will not cut corners or compromise the quality of our care in order to reduce the costs of our procedures. While we try to make treatments such as the revolutionary KöR® teeth whitening procedure at our Jackson practice as affordable as possible on most budgets, we offer financing through CareCredit® to those who cannot afford to pay for the treatment out of pocket.
How much would KöR® teeth whitening cost in your particular case? Are you interested in finding out? If so, we encourage you to schedule your initial consultation with Dr. Kalil Abide today.
What is KöR® teeth whitening?
The KöR® teeth whitening system is unique among professional teeth whitening systems in that it is effective in treating both extrinsic (superficial) stains and intrinsic (deep) stains. Most rival teeth whitening systems are minimally effective at lightening, let alone removing, tough intrinsic stains, such as tetracycline stains. However, the specially formulated, proprietary KöR® teeth whitening gel, in combination with the custom-crafted take-home whitening trays with which patients are provided, penetrates the enamel to tackle even the deepest stains at their source, leaving teeth looking naturally, beautifully white.
How much does KöR® teeth whitening cost?
More so than most teeth whitening systems, the cost of treatment with the KöR® teeth whitening system can vary. This is due to several factors:
There are four different KöR® teeth whitening systems available, each suited for a different type and severity of discoloration. The cost of your treatment will depend on which whitening system is best suited to your case and whether your treatment will occur exclusively at home or be combined with an in-office treatment.
KöR® teeth whitening will not whiten existing restorations, such as porcelain veneers or crowns. If you decide to have restorations replaced to match your newly whitened teeth, this will add to the overall cost of your treatment.
The KöR® teeth whitening procedure is intended to be a permanent solution to discoloration. As such, periodic touch-ups are necessary. Fortunately, the custom-crafted whitening trays are so well made that, with proper care, they should last for many years, if not a lifetime, making the system more cost-effective than many alternative treatments.
As stated above, we do offer financing through CareCredit® to qualified applicants. For your convenience, we also accept all major credit cards, checks, and, of course, cash.
Learn More about the Cost of KöR® Teeth Whitening
To learn more about the cost of KöR® teeth whitening, please contact Harmony Dental Care today.