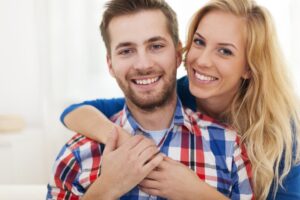 One of the greatest benefits of modern cosmetic dentistry is its versatility. Whether you want to make a subtle refinement to one or two of your teeth or dramatically reinvent your smile, cosmetic dentistry offers a potentially ideal solution. And no solution in cosmetic dentistry is as comprehensive and transformative as the much-heralded smile makeover.
Right now at Harmony Dental Care, we are offering a smile makeover special to patients of our Jackson cosmetic dentistry practice. If you have ever wanted to achieve the smile of your dreams, now is the time to visit Dr. Kalil Abide and his team of experienced dental professionals to find out how they can make those dreams a beautiful reality.
Before you contact our practice to schedule your initial consultation with Dr. Abide, we invite you to take a moment to learn what a smile makeover is and which treatments might be combined to form your custom smile makeover plan.
What is a smile makeover?
Although tens of millions of people have been made familiar with the phrase "smile makeover" through television and other media, many people are still not quite sure what the phrase actually means. A smile makeover is not a dental procedure, per se, but rather a treatment plan comprising multiple procedures. In the hands of an innovative, experienced cosmetic dentist such as Dr. Abide, a smile makeover will always be customized to the needs and goals of each individual patient; therefore, no two smile makeovers would ever be exactly alike. Furthermore, each of the treatments included in the smile makeover could further be customized to produce a smile that is as unique as the patient.
Treatments Commonly Included in a Smile Makeover
Your smile makeover may comprise just a couple of treatments or several treatments for more comprehensive results, depending on your needs and goals. Commonly combined treatments include:
Porcelain veneers: These translucent porcelain restorations conceal chips, cracks, discoloration, and flaws in the shape of teeth while looking completely natural. They form the basis of many of the most transformative smile makeovers.
Porcelain crowns: These tooth-shaped restorations are crafted to cover the entire visible surface area of teeth that are discolored, weakened, decayed, or otherwise damaged.
Teeth whitening: The KöR® Deep Bleaching™ system can whiten teeth by multiple shades in just an hour, drastically lightening or altogether removing even the most stubborn stains caused by foods, liquids, and tobacco.
Invisalign®: This revolutionary orthodontics system straightens teeth using a series of removable, clear plastic aligners.
Cosmetic dental bonding: Using a composite resin material, Dr. Abide can conceal aesthetic flaws while restoring whiteness to the teeth.
Cosmetic tissue sculpting: For patients with "gummy" smiles, Dr. Abide can strategically remove gum tissue. Conversely, for patients with "toothy" smiles, he can build up the gums by performing a periodontal grafting procedure.
Find Out More about Our Smile Makeover Special
To learn more about our smile makeover special, or to schedule your initial consultation with Dr. Abide, please contact Harmony Dental Care today.