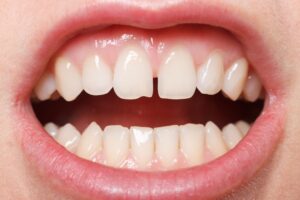 The team at Harmony Dental Care has countless treatment options available, ones that can help the people of Jackson have the healthiest and most beautiful smiles possible. We offer the latest in cosmetic dentistry as well as advanced restorative dentistry with a focus on total wellness.
Right now, we want to turn our attention to treatments that can address chips and cracks, which are common problems that our patients face.
Causes of Chipped and Cracked Teeth
Many different things can cause chips and cracks to occur. This includes:
Blows to the head, face, and or mouth
Auto accidents
Bike accidents
Sports injuries
Teeth grinding (bruxism)
Work injuries
Serious falls
Physical assaults
Why Chips and Cracks Need to Be Taken Seriously
When you have a tooth that's been chipped or cracked, there are cosmetic and health matters to consider.
In terms of smile aesthetics, a chip or crack can leave you feeling very self-conscious about laughing, smiling, and speaking, even around people whom you have known for many years.
With dental health, the issues are much more serious. A chip or crack in a tooth means that it is more likely to be weakened. The compromised tooth may break when biting or chewing. The damage to the tooth also leads to an increased risk of tooth sensitivity and root canal infection, which is why treatment is so important.
Dental Bonding
When you have very minor chips and cracks that are predominantly cosmetic in nature, dental bonding is typically the best bet for treatment. Dental bonding uses special tooth-colored resins that are painted onto the surface of a tooth, masking the tooth damage from view. Bonding can also be used to address minor cavities, minor spacing issues, and to cover up stains and tooth discoloration.
Porcelain Veneers
For more serious aesthetic cracks and chips, porcelain veneers are a good option to consider. Porcelain veneers are thin shells of specially made dental ceramic. These shells are affixed to the fronts of the teeth in order to mask all kinds of imperfections from view. In addition to chips and cracks, dentists can use porcelain veneers to hide stains, tooth gaps, asymmetry, and other minor flaws.
Inlays and Onlays
When a chip or crack is too serious for cosmetic treatments, the use of a dental restoration is ideal. That is where inlays and onlays should be considered. Inlays and onlays are essentially like dental fillings, though they are larger and able to restore larger sections of damaged tooth structure, including the entire cusp (biting surface) of a tooth. These restorations come in metal or tooth-colored form, with the former being more ideal for the molars.
Dental Crowns
When a tooth is severely damaged, the last option for saving it is typically a dental crown. Crowns are caps that fit over a tooth that has been serious damaged or decayed. The crown protects the remaining tooth structure from pain and sensitivity while also ensuring that a patient can bite and chew again with that tooth. Like inlays and onlays, crowns come in tooth-colored and metal forms.
What If a Tooth Can't Be Restored?
Sometimes a tooth is so damaged that a dentist may not think that restorative treatment will be helpful. In these cases, the best option is to extract the tooth and then consider options for filling the tooth gap. These options can be discussed in more detail during your visit to the practice.
Contact Harmony Dental Care
For more information about treating chips and cracks that affect the health and beauty of your smile, it's important that you contact our cosmetic and restorative dentistry center today. The team at Harmony Dental Care look forward to your visit and discussing your treatment options with you in greater detail.