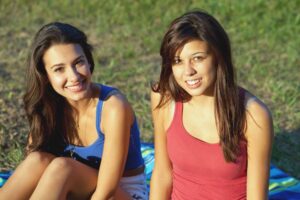 The team at Harmony Dental Care is proud to help patients in the greater Jackson area. We offer comprehensive general dentistry services, with a focus on tailoring treatment to the needs of the patient. Many times this means considering the needs of patients at a given age.
With this in mind, let's focus on the needs of teenage dental patients and what treatments may benefit them.
Teenage Dental Care: The Basics
When it comes to the dental care needs for teens, it's important to emphasize the basics of wellness. This means focusing on the straightness of the teeth as well as the overall health and wellness of the parts of the mouth. In this case, it means making sure that current dental health is good and that future dental wellness is great as well.
Orthodontic Treatment for Teens
With teens, orthodontics is a great option to consider. By the teenage years, a person's permanent teeth are all in place. Yet at that point, a teen is still maturing as well, which means their dental ridge is still malleable and can be easily adjusted. Teenage orthodontics is easier than adult orthodontics with this regard.
There are traditional braces to consider, which use brackets and wires to slowly shift the teeth into proper position. There are also invisible braces options that involve the use of tooth-colored brackets and wires or clear plastic aligners to adjust dental alignment. The best option can be discussed during the consultation process.
Treatments for Student Athletes
When a teen is a student athlete, the primary dental health concerns involve preventative care as well as restorative care.
In terms of preventative care, the best option for student athletes is to get a custom mouth guard created. A mouth guard is a protective retainer that helps prevent injury to the teeth, gums, and tongue. It's great for contact and combat sports as well as extremely competitive competition such as soccer, field hockey, and basketball.
In terms of restorative care, dentistry for student athletes will typically involve the use of dental restorations and emergency dental care to address injuries sustained as a result of a sports injury. All efforts will be made to help ensure a healthy smile.
Monitoring the Wisdom Teeth
During the late teens, wisdom teeth tend to begin emerging. Wisdom teeth are the extra sets of molars on the top and bottom rows of teeth that grow in behind your existing molars. Sometimes these wisdom teeth come in straight, while other times they come in crooked, causing painful impaction. Even when wisdom teeth grow in straight, they can make regular oral hygiene difficult.
While the wisdom teeth do not typically emerge until a patient's early twenties, a dentist can take x-rays and monitor the emergence of the wisdom teeth during a patient's teens. This helps plan for the eventual oral surgery to remove the wisdom teeth.
General Dentistry Treatments
The basics are always essential, which is why general dental care services is always an important part of dentistry at all ages. This is the best way to ensure a healthy smile that's great today and even better tomorrow.
Contact Harmony Dental Care
If you would like more information about the way we can help teenage dental patients have the healthiest smile smiles possible, it's important that you contact our cosmetic and restorative dentistry center today. The team at Harmony Dental Care looks forward to your visit and helping you with your dental care needs.