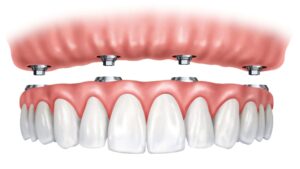 If you are missing most or all of your natural teeth on your upper arch, your lower arch, or both arches, then dental implants represent a potentially ideal solution for replacing those teeth. Dental implants can be used to secure dentures so that they will not slip or shift. Whether you have never worn dentures before or you are a current denture wearer who is tired of having problems with speaking, biting, and chewing, you owe it to yourself to investigate the possibilities of implant-supported dentures.
While traditional dental implants provide outstanding support for dentures, there is an alternative that is even more effective and efficient: All-on-4® implants. At Harmony Dental Care, Dr. Kalil Abide offers All-on-4® dental implants to eligible candidates due to the many unique benefits they have to offer, even compared to their already impressive traditional counterparts. Dr. Abide discusses the issue of All-on-4® vs. traditional dental implants during consultations at his Jackson, MS general, restorative, and cosmetic dentistry practice so that patients can make confident, informed decisions as to which method of implant dentistry is best suited to their unique cases.
Are you a good candidate for All-on-4® dental implants? Or are traditional dental implants the best option for you? To find out, please schedule your initial consultation with Dr. Kalil Abide at Harmony Dental today.
All-on-4® Dental Implants Compared to Traditional Dental Implants
If you are missing most or all of your natural teeth, then you know all too well about the problems missing teeth can create. Even if you wear dentures, such everyday tasks as speaking clearly, taking a bite out of an apple, or chewing a piece of steak can be difficult if not impossible. With implant-supported dentures, however, these tasks can once again be performed with ease and confidence. Truly, dentures supported by dental implants – tiny titanium posts that are surgically embedded into the jaws where they act as artificial tooth roots – are the next best thing to having a mouth full of healthy natural teeth.
If there was any downside to using traditional dental implants to secure dentures, it was that as many as ten implants were required to support the dentures per arch. Therefore, patients who required full mouth restoration might need to have as many as 20 implants surgically embedded into their jawbones, in addition to any bone grafting and sinus augmentation work that might be necessary. The result was a very expensive and time-intensive procedure.
Using the All-on-4® implant method, however, Dr. Abide is able to secure dentures with just four dental implants per arch. This is possible through careful treatment planning and the placement of the posterior implants at an angle that optimizes the bone-to-implant ratio. Patients benefit from shorter treatment and recovery times while enjoying the same excellent results possible with traditional implants.
Learn More about All-on-4® Dental Implants
To learn more about All-on-4® dental implants versus traditional dental implants, please contact Harmony Dental Care today. We would be pleased to answer any questions you might have.