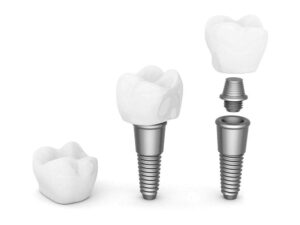 The team at Harmony Dental Care has built a strong reputation when it comes to advanced restorative dentistry in the Jackson area. We offer dental implants for missing teeth, for example, with every treatment plan customized to the patient.
In order for implant dentistry to be successful, patients need to follow pre-op and post-op instructions closely. One important rule for patients is to avoid smoking. Let's see why this is a crucial rule to follow.
How Dental Implants Work
Dental implants are artificial tooth roots that are surgically embedded into the jawbone and gum tissue of a patient's dental arch. They are used to support dental appliances when a patient is missing a tooth or multiple teeth. Dental implants are able to support individual dental crowns, dental bridges, partial dentures, and full dentures.
Dental implants offer a level of stability that is unmatched by removable dental appliances. However, smoking can put that stability into question.
The Health Problems Associated with Smoking
Smoking can lead to a whole host of dental problems and general wellness issues. For instance, it's common knowledge that smoking can cause different kinds of cancers, lung disease, high blood pressure, and heart disease. Yet smoking can also lead to a number of dental health problems, and we don't just mean bad breath. In fact, smoking can result in the failure of dental implant treatment for a number of reasons.
Slower Healing Times Mean Greater Chance of Complications
Smokers often experience issues with healing times. Smokers heal slower than non-smokers, which puts them at greater risk for many kinds of complications. If a patient with dental implants does not heal in a timely manner, they are more likely to experience serious implant failure and poor overall results from the implant dentistry process.
Increased Risk of Post-Surgical Infection
Increased risk of post-surgical infection is one of the most significant risks of smoking while getting dental implants. These infections after the oral surgery has been performed can affect the gum tissue as well as the bone structure, resulting in serious dental health and wellness problems.
Increased Risk of Gum Disease
Even after initial healing from surgery, a smoker's risk of infection continues and in a way that can jeopardize their dental implants. Smokers are more likely to experience gum disease. This is an infection caused by the same bacteria responsible for bad breath and tooth decay.
When gum disease occurs, the gum become inflamed and irritated. In later stages of the infection, the gum tissue is unable to properly support natural or artificial tooth roots properly. This means your dental implants can come loose or become crooked, making implant failure far more likely.
Quit Smoking Before and After You Have Implants Placed
To ensure successful implant dentistry treatment and prevent a costly failure of the process, we recommend that patients quit smoking a few weeks before their oral surgery and to continue to abstain from tobacco products for the foreseeable future. This is a good excuse to kick the habit for good.
Learn More About Dental Implants
For more information about dental implants and how they can help you smile with renewed confidence and improved dental health, be sure to contact our advanced cosmetic and restorative dentistry practice today. The team at Harmony Dental Care looks forward to your visit and discussing these matters with you in greater detail.