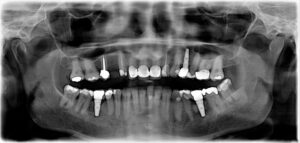 When patients come to our Jackson dentistry practice, they can expect custom-tailored dental care. This is important whether we're talking about general dentistry services or more involved procedures that address aesthetics or overall dental wellness.
It should come as no surprise that when getting dental implants as a treatment for missing teeth, planning is integral to success. Let's take a moment to consider implant dentistry and the importance of the planning process.
About Dental Implants
Dental implants are artificial tooth roots that are surgically embedded into the jawbone and gum tissue. These artificial tooth roots are designed to support dental appliances of various kinds when a patient is missing teeth. Thanks to advanced in implant dentistry, these artificial tooth roots can be used to support dental crowns, dental bridges, and dentures.
Why Planning Is So Important
Planning any kind of dental procedure and oral surgery is essential for ensuring success. The planning process helps reduce the chances of serious side effects and post-surgical complications. Optimal placement of the dental implants can also be considered, which can mean all the difference when it comes to long-term effectiveness of treatment.
The Need for Bone or Gum Augmentation
One of the first things to plan out is if a patient will require bone grafting or gum augmentation. These procedures are designed to enhance the density of the hard and soft tissues in the mouth. You see, when patients are missing teeth for a long period of time, this causes the loss of bone density as well as gum recession. A dental implant can only be secured if there is sufficient bone and gum tissue in place.
Bone grafting and gum grafting will involve oral surgery, and a months-long healing process. Once completed, patients will be sufficient tissue density for dental implants treatment. Keep in mind that this adds time to the overall treatment process.
Considering the Type of Dental Implant to Use
There are, generally, two options for dental implants that can be used during treatment: endosteal and subperiosteal.
Endosteal dental implants are the traditional types of dental implants that are shaped like screws and posts. These kinds of dental implants are anchored directly into the jawbone and gum tissue.
Subperiosteal dental implants are much different. These kinds of dental implants are a type of framework that is placed below the gum tissue and above (not into) the jawbone. The framework spreads out along the jawbone and braces onto it for optimal hold.
Designing the Implant Restoration
In addition to the dental implants themselves, the planning phase of treatment allows some time to consider the dental appliance and what it will look like. By carefully tailoring the procedure to the patient, we can create a dental implant restoration that functions properly and looks great. This focus on aesthetics and health is crucial for patient satisfaction immediately after treatment and years down the road.
Learn More About Implant Dentistry
For more information about dental implants and how they can help you smile again with renewed confidence, be sure to contact our advanced dental care practice today. We will work with you to improve the overall health and beauty of your smile.