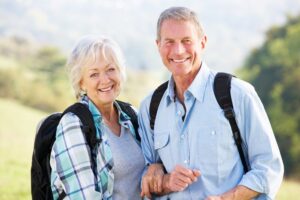 No matter how old a patient is, they can benefit from the oral health care that is provided by a professional dentist. However, as a person goes through the stages of their life, there are dental services that are likely to be more important than others. For seniors, the primary focus of dental care is general dentistry services that preserve the strength and structure of the smile and prevent the development of serious dental complications. Despite these efforts, oral health problems are common for senior patients, so restorative and cosmetic dentistry services to enhance the health and aesthetics of the smile also remain important. At Harmony Dental Care, Dr. Kalil Abide offers a comprehensive range of dental care services for seniors that allow our Jackson, MS patients to maintain strong, healthy, and beautiful smiles as they age.
General Dentistry for Seniors
Even if a patient has practiced good oral hygiene habits his or her entire life, it is natural for the teeth to wear down and weaken as they reach their senior years. As the teeth weaken, they become more vulnerable to decay, erosion, and other oral health problems, which is why general dentistry services are so important to our senior patients. Dr. Abide offers a range of general dentistry services that help patients preserve the health, strength, and structure of the teeth and gums, including the following:
Dental exams
Dental cleanings
Periodontal care
Oral cancer screenings
Aside from helping in the prevention of dental complications, general dentistry services are also vital to the early diagnosis and treatment of oral health problems, which allows patients to treat potential complications before they become more advanced.
Restorative Care for Seniors
Because the teeth naturally weaken as a person ages, it is common for senior patients to develop dental problems. These problems range in severity and may include something as simple as minor tooth decay, or more serious complications such as root canal infections, or even tooth loss. Dr. Abide offers a number of restorative dental services that allow his patients to restore the strength, health, and structure of the smile despite even the most serious of dental complications. Below are some of restorative dental services that may benefit Dr. Abide's senior patients:
Dental fillings
Inlays and onlays
Dental crowns
Root canal therapy
Dental bridges
Dentures
Dental implants
Each of these treatments addresses oral health problems in order to improve a patient's functions, and restore a patient's oral health and comfort.
Cosmetic Care for Seniors
Even if the smile remains structurally sound as a patient ages, the aging process can still take a toll on the appearance of the teeth. Older teeth are more susceptible to stains and discoloration, as well as chips, cracks, and minor fractures. These are all problems that can be addressed through cosmetic dentistry treatments that enhance the natural beauty of the smile. Some of the cosmetic treatments offered by Dr. Abide include teeth whitening, cosmetic dental bonding, and porcelain veneers.
Contact Us
There is no reason that a patient shouldn't enjoy a strong, healthy, and beautiful smile throughout life. If you are looking for quality dental care that will help you preserve your smile through your golden years, look no further than Harmony Dental Care. Dr. Kalil Abide offers the comprehensive dental care that senior patients need to maintain a smile that is healthy and attractive. To learn more about our quality dental care for seniors, contact us at your earliest convenience.