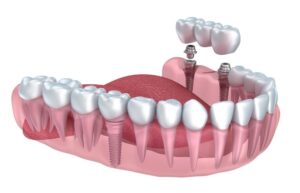 Missing teeth affect more than your appearance. They also impact your speech and ability to chew properly. In addition, you are at a greater risk for tooth decay, gum disease, and other serious complications. If you want a permanent solution for your missing teeth, consider dental implants. These strong and durable titanium posts offer permanent stability and many other benefits. At Harmony Dental Care in Jackson, MS, Dr. Kalil Abide can provide multiple tooth replacement with dental implants to give you a full and healthy smile once more.
A Lasting Replacement for Missing Teeth
Traditional bridges and partial and full dentures can replace your teeth, but they are associated with some disadvantages. The bone loss that occurs with tooth loss will continue, causing changes in your gums and jaw. As a result, these restorations must eventually be replaced more frequently.
Dental implants, however, replace the missing tooth roots, which stimulates the jawbone, preventing bone loss. Implants can support a wide range of restorations, so Dr. Abide can place a custom prosthetic to meet your unique needs.
What's more, an implant is not needed for every missing tooth. Instead, as little as two to four strategically placed implants can support a bridge, partial denture, and even full dentures. Dr. Abide can determine the number of implants needed to support your restoration after a thorough consultation.
Multiple Tooth Replacement with Dental Implants
Whether you are missing two to four teeth in a row or you have missing teeth throughout your smile, dental implants are an ideal solution. If you have an entire arch of missing teeth, implants can replace those as well.
The process begins with an in-depth consultation and examination with Dr. Abide. He will take a series of images (digital x-rays and other scans). If you have already lost some bone tissue, you may need a bone graft prior to implant surgery.
Once you have been cleared for surgery, Dr. Abide will plan your treatment. The implants are surgically placed in the jawbone at strategic locations to provide the strongest foundation for your restorations. Some patients may qualify for the All-on-4 method. This means Dr. Abide can place and restore your implants in the same appointment.
If you do not qualify for All-on-4, you will need to wait three to six months before having your final restorations put in place. This extended healing period allows the implants adequate time to fuse with the jawbone during a process called osseointegration.
Once you have healed, Dr. Abide can affix a dental bridge to replace several missing teeth in a row. He can also place an implant-supported partial denture for scattered gaps in your smile. To replace a full arch of missing teeth, he offers implant-supported dentures.
Find Out if Dental Implants Are Right for You
If you are interested in a permanent tooth replacement solution for multiple missing teeth, contact Harmony Dental Care to schedule a consultation for dental implants.